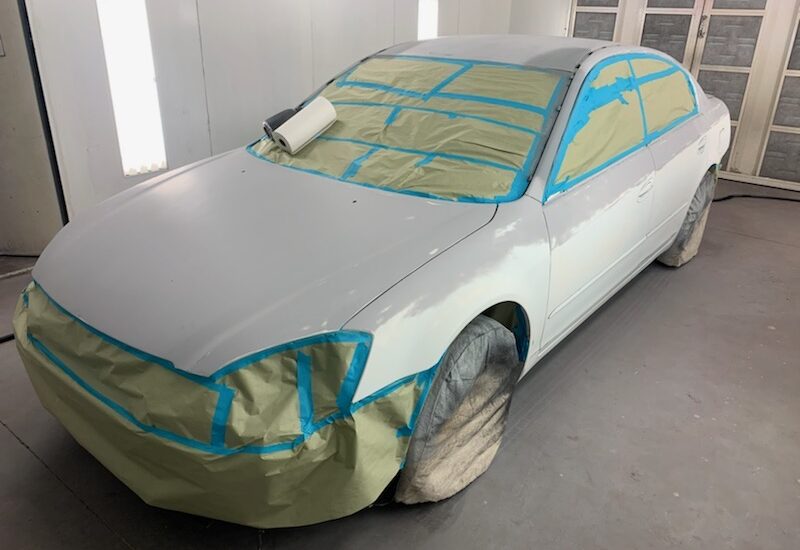 There's nothing like a clean, fresh auto paint job. There's also nothing like seeing that precious paint get scratched, dinged, or completely destroyed.
Your vehicle's appearance makes a major impression. To keep yours looking its best, it's important to know who to call. When you know the best body shop St Petersburg FL has to offer, you always have a competent, capable team on speed dial.
At Flawless Auto Paint Repair, we treat your car like our own. We don't cut corners and we never compromise on quality. Today, we're taking a closer look at what sets our services apart from the rest and how you can make an appointment today.
The Flawless Auto Paint Repair Process
Out of all the auto paint shops in St Petersburg, FL, why should you choose us to handle your job? Put simply, we're obsessed with detail. We know there are no shortcuts to take when it comes to restoring your car to its original glory.
That's why we designed our proven, effective 5-step process that's guaranteed to give you results that exceed your expectations. The process includes:
Body Repair
Painting and Polishing
Vehicle Cleaning
Quality Assurance
Vehicle Ready!
You can rest assured that our skilled and experienced maintenance technicians will take great care of your vehicle at every step. Next, let's take a closer look at the different types of services we can provide.
Auto Body Frame Repairs
From a fender-bender to a major collision, there are many unexpected issues that could affect the frame of your vehicle.
When it's misshapen, it not only looks out of place but could also affect the safety and usability of your car. After all, a vehicle's frame is its primary supporting structure, and all the other parts are attached to it.
As the top auto body shop St Petersburg FL residents trust, we know how to repair almost any vehicle frame. We understand the importance of expertly restoring each frame's structural geometry to precisely meet factory specifications. To do so, we utilize our state-of-the-art metal platform, which allows us to move around the vehicle and work easily around it.
Direct vs. Indirect Collision Damage
When you're involved in a collision, there are two types of damage that could occur: direct and indirect. Direct frame damage happens right at the point of impact. You'll notice it in the exact spot where the other vehicle impacted your own.
For instance, if you're T-boned, then you will find direct damage on the side of your car, where the actual impact occurred. On the other hand, indirect damage isn't always as obvious and easy to find.
In fact, indirect damage can be incredibly subtle, but still render your vehicle damaged or unsafe to operate. That's why it's important to visit a trusted vehicle body shop as soon as you're involved in a collision. We can get you squared away and restore your vehicle to its pre-collision state so looks great and runs smoothly on the road.
Auto Paint Repairs
It could be a little scratch, practically invisible to everyone but obvious to your eagle eyes. Or, it could be a major issue, taking off most of the paint off your vehicle. Either way, you need professional repair to fix it as soon as possible.
The appearance of your car matters, and we take as much pride in it as you do.
Our crew at Flawless Auto Paint Repair can expertly repaint your entire vehicle, right down to your rims! We know that every aspect matters, and we're here to make sure every square inch shines just the way you want it to.
Whether you need a minor touch-up, mid-scale scratch repair, or full vehicle auto painting services, you've always covered when you trust our team. We'll do more than just fix the issue. We'll help your vehicle look even better than before, so it stands out and looks brand new!
Bumper Repairs
If you've been in a bump-up, you know that they can inflict a significant amount of damage to your vehicle. That's why we include professional bumper repairs as part of our comprehensive vehicle maintenance services.
Some customers only need to correct a small scratch on their bumpers, while others are in need of a full-scale bumper repair. At Flawless Auto Paint Repair, we can do all and no job is too big or too small.
The best part? All of our bumper repair services come with a lifetime guarantee. That's how confident we are about our work, and how sure we are that you'll love it for life.
How do we do it? Our team uses cutting-edge bumper repair technology to perform this service. In most cases, this approach allows us to maintain the bumper that was originally manufactured to fit your vehicle. From there, we can perform the necessary repairs to keep it looking as good as new!
If, for any reason, we are unable to repair your bumper, we'll replace it with a new one!
Painting, Polishing, and Cleaning
After we complete any necessary auto body repairs, we'll also take the time to polish and clean your car as required. We believe in returning our vehicles in even better shape than we receive them, and we know the value of going the extra mile.
That's why painting, polishing, and cleaning are part of our standard five-step process! You can be confident that when we return your vehicle to you, it will look fantastic, both inside and out.
Quality Assurance
There's a reason why we dedicate a full step in our process to quality assurance. This is the last stage that your vehicle will go through before it's ready for you! We want to make sure everything is in place and ready to go before you pick it up.
During this stage, our technicians will carefully inspect your vehicle and all of the work that has been performed on it. We follow a detailed checklist and make sure all of the components are in place before signing off.
A Body Shop You Can Trust
When you take your car to a body shop, you want to make sure the team you trust is skilled in every part of vehicle care. That's exactly what you'll get when you work with our team.
The repair technicians at Flawless Auto Paint Repair are experienced and trained in all aspects of body shop repair. Whether you need your frame repaired or your vehicle body repainted, we have the tools, techniques, and technology required to get the job done.
We take great pride in the skills and abilities of our team members, and believe our team is our greatest asset. If you have any questions about a job or want to schedule a service, our technicians are only a phone call away and they're always ready to help.
Check Out Our Gallery
We can share the details about our services and describe how they work, but we know that a picture is worth a thousand words! That's why we've complied some of our recent projects into our online Gallery page.
Seeing is believing, and this is a great way to get an up-close look at some of the frame repairs, paint repairs, and bumper repairs we've performed since we started. Feel free to browse the entire gallery, and click on the magnifying glass icon on each picture to get an even bigger view!
Love a particular picture and want to see even more images from that specific job? Hover over the image and click the link icon. When you do, you'll go to a different gallery, where you can see a step-by-step picture gallery of how we took the vehicle from Point A to Point B.
Interested in learning more about our past projects? Curious about the approach we used or a certain technique you see in the gallery?
If so, feel free to reach out to our team! We're happy to share how we approach each job and achieved the impressive outcome you see. We reach our results based on years of industry experience, coupled with expert precision and skill.
The Body Shop St Petersburg FL Residents Trust
Are you looking for an auto body repair shop that you can turn to time and again? If so, our team at Flawless Auto Paint Repair is here to help.
From frame and paint repairs to bumper repairs and replacements, we can do it all. There's a reason we've built a reputation as the go-to body shop St Petersburg FL residents trust.
To learn more about our services or schedule an appointment, feel free to contact us today.